The Jamaica Red Cross (JRC) is an auxiliary in the humanitarian field to the Government of Jamaica. There mission is to improve the lives of vulnerable people by developing capacity, mobilizing critical resources and promoting humanitarian activities.
Strategy and Planning
Art Direction
Wireframing
UI Design
Prototyping
Creative Development
WordPress Development
The JRC asked me to redesign their basic and rough website to make it appealing and user-friendly. The company's website was clunky, unstructured, and was not reflecting the Jamaica Red Cross humanitarian ideas or that of the IFRC global network.
When the client reached out, the JRC already had an existing website. However, the design and platform was outdated, users were struggling with bad UX, so the website didn't appear to be as functional and efficient as they intended. As a result, the client started receiving feedback from users on social media, and the need for a redesign was inevitable.
Before the redesign, it was essential to analyze the website and its assets to find out the pain points to eliminate. Additionally, it was decided to get insights from staff and stakeholders' interviews to clarify the process.
Another integral part of the project was to polish the information architecture and refine the visual hierarchy to highlight the most important information. That would enable users to easily find what they need, eventually bringing their experience to a new level. For that reason, the need to categorize services so users could navigate through the items without wasting time and scrolling numerous pages for the desired option.
Once the new information architecture was applied, I then moved to wireframing to design a variety of user flows and test the upgraded customer experience.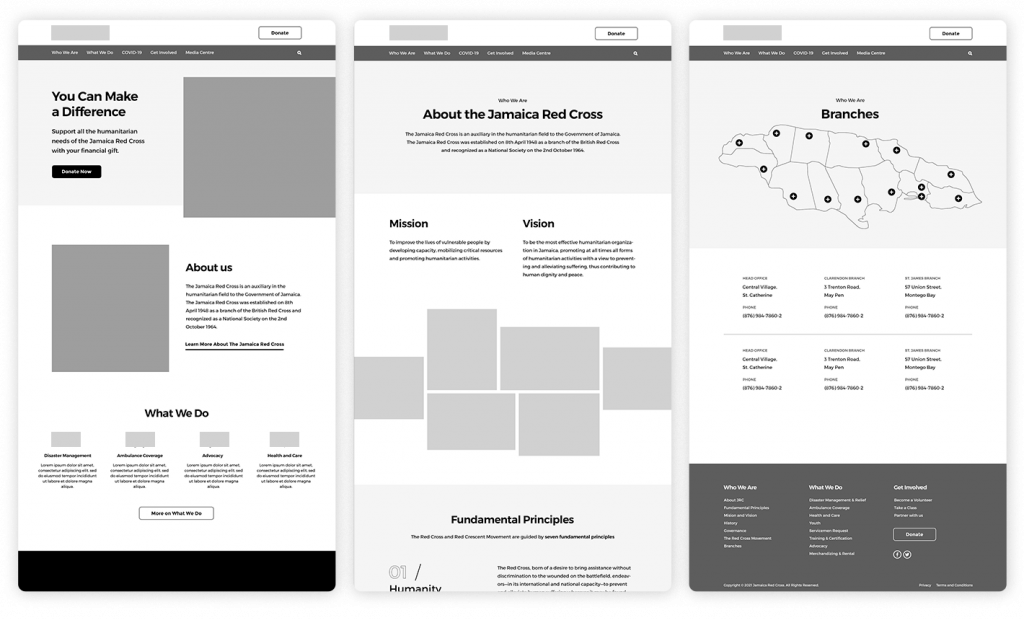 While the Jamaica Red Cross didn't have any brand guidelines for the website, design guidelines were provided by IFRC. They used distinctive colours, font and iconography across their marketing assets, so I decided to keep them to make the company be apart of the global humanitarian network.
Striving to strike a balance between exceptional visual and seamless user experience, I carefully arranged the content of the JRC's website, creating a sitemap and responsive layouts, yet filling each page with impressive visuals.
As a final touch, a coming soon and a telethon landing page were done for the JRC to build user anticipation right before the launch.
Built on WordPress, the new website is visually-driven and showcases the various divisions of support offered by the Jamaica Red Cross. Combined with general improvements to site architecture and user experience, the JRC new site look is modern, creative and high-impact.